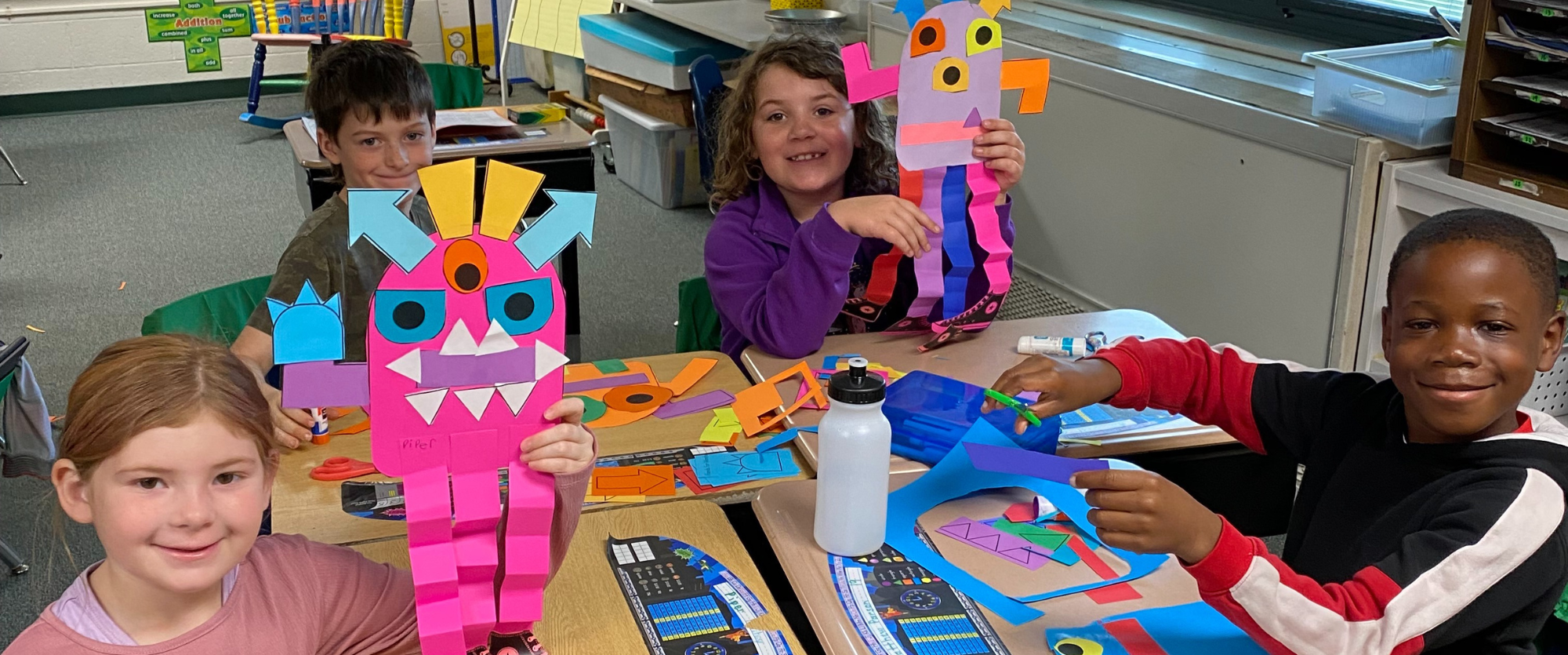 Mars Elementary

430 W. Mars St.

Berrien Springs

,
MI
49103

Phone:
(269) 471-1836

Fax:
269-471-8855

Map

Welcome to

Mars Elementary

Together, inspiring students to live the Shamrock Way!

The Mars Elementary school family is committed to making your child's early education experience positive and productive. Our highly qualified staff prides themselves on developing a self-directed, lifelong learner, who demonstrates personal competencies in academic achievement, technology, and citizenship.

Our child-centered educational institution services students that are eligible for Young 5's through second grade. We also provide assistance through a hearing impaired program, special education and speech and language services. Extra reinforcement of support is offered to students through our social worker, Title I interventions, English as a second language (ESL) classrooms, 31a paraprofessionals and virtual extension/enrichment activities.

At Mars Elementary, students enjoy participating in extended classes such as; technology, general music, visual arts, physical education and library. As we prepare our students to be 21st century learners, we focus on personal learning and one to one technology.

Mars Elementary services a diverse population that makes our school environment rich with culture. We pride ourselves on meeting the needs of all kids and look forward to developing a positive, productive educational experience with our students and school families.
Mars Elementary
430 W. Mars St.
Berrien Springs

,
MI
49103
Deanne-Adele Sanchez
Dean of Students
Patty Ballard-Works
Principal's Secretary
Desiree Schuler
Secretary
Stacey Holmes
School Social Worker
Christina Stackman
PBIS Coordinator
Special Education & Deaf/Hard of Hearing Office
269-471-1059
Audiology
269-471-8858
Transportation
269-471-2594
​Food Service
269-471-8860
Hours
Students: ​8:40 am - 3:42 pm
Office: 8:00 am - 4:30 pm
Upcoming Events
Upcoming Events

Previous

March

2023

Next

S
M
T
W
T
F
S
1

Mar 1

Calendar:

District Calendar

2
3
4
5
6

Mar 6

MSBOA Concert Band Festival

Calendar:

District Calendar

7

Mar 7

MSBOA Concert Band Festival

Calendar:

District Calendar

8

Mar 8

MSBOA Concert Band Festival

Calendar:

District Calendar

9

Mar 9

Half Day for All Students/Full Day for Staff

Calendar:

District Calendar

IRIPS for Elementary and Exhibition Night Event for Secondary

Calendar:

District Calendar

5:00 PM to 7:00 PM

Exhibition Night - High School

Location:

Berrien Springs High School, 201 Sylvester Ave, Berrien Springs, MI 49103, USA

Calendar:

District Calendar

5:30 PM to 7:00 PM

Exhibition Night - Middle School

Calendar:

District Calendar

10

Mar 10

MSBOA Concert Band Festival

Calendar:

District Calendar

11
12

Mar 12

1:00 PM to 3:00 PM

Mother/Son GagaRama Event

Location:

Berrien Springs Middle School, 502 Middle School Drive, Berrien Springs, MI 49103, USA

Calendar:

District Calendar

Sponsored by the Shamrock PTO Meeting

13

Mar 13

9:00 AM to 2:00 PM

Discovery Academy - Career and Job Fair

Location:

Arts and Athletic Center

Calendar:

District Calendar

14
15

Mar 15

MS and HS Choir Festival Concert

Calendar:

District Calendar

16

Mar 16

4:00 PM to 5:00 PM

Location:

Mars Elementary School, 430 W Mars St, Berrien Springs, MI 49103, USA

Calendar:

District Calendar

7:00 PM to 8:30 PM

Board of Education Meeting

Location:

Berrien Springs Virtual Academy, 1 Sylvester Ave, Berrien Springs, MI 49103, USA

Calendar:

District Calendar

17
18
19
20

Mar 20

Spring Break Week - No School

Calendar:

District Calendar

21

Mar 21

Spring Break Week - No School

Calendar:

District Calendar

22

Mar 22

Spring Break Week - No School

Calendar:

District Calendar

23

Mar 23

Spring Break Week - No School

Calendar:

District Calendar

24

Mar 24

Spring Break Week - No School

Calendar:

District Calendar

State Choir Solo and Ensemble

Calendar:

District Calendar

25

Mar 25

State Choir Solo and Ensemble

Calendar:

District Calendar

26
27
28
29

Mar 29

6:30 PM to 8:00 PM

Location:

Sylvester Elementary School, 101 Sylvester Ave, Berrien Springs, MI 49103, USA

Calendar:

District Calendar

30

Mar 30

Calendar:

District Calendar

31

Mar 31

End of the 3rd Marking Period

Calendar:

District Calendar
Location:

Sylvester Elementary School, 101 Sylvester Ave, Berrien Springs, MI 49103, USA

Calendar:

District Calendar

Calendar:

District Calendar

End of the 3rd Marking Period

Calendar:

District Calendar

Board of Education Meeting

Location:

Berrien Springs Middle School, 502 Middle School Drive, Berrien Springs, MI 49103, USA

Calendar:

District Calendar

Good Friday Holiday - No School for Students and Staff

Calendar:

District Calendar