Project Based Learning Electives provided by the Berrien Springs Virtual Academy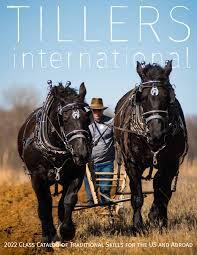 Historical Crafts Fall 2023
Animal power with Horses and Oxen
Blacksmithing and Forging
Traditional Woodworking with Hand Tools
Rural Arts, Broom-making, Rope-making and wheels.
Current class schedule:
September 21, 4:00 PM pre trip meeting AT Andrews
September 28, day at Tillers
October 12, Day at Tillers
Post class presentations, TBD by families.
Info:
Ages 8 and up. Under age 12 parent or guardian present required.
Minimum 10 students, Max 22.
Location: Tillers International, 10515, OP Avenue, Scotts, MI 49088
Website: Tillers International
This is an experiential education program. Students will drive horses or oxen, Learn about animal training and care to create the bond between animal and teamster. They will forge iron into useful items in the blacksmith shop under the guidance of experienced smiths, Using traditional woodworking tools they will make an item from locally available woods. They will learn about and participate in activities to make brooms, weave strong rope and learn about how to make a functional wooden wheel. Consider this class an introduction to the educational possibilities at Tillers International.

We will have an organizational meeting early in September to present Tillers International, discuss proper dress, lunch, safety issues and transportation. We will also discuss a follow up presentation of creative piece from the activity. You will be responsible to get to the class location. Tillers is about 60 miles from Benton Harbor. We have made the class an intensive two day program to minimize transportation. Carpooling is encouraged.

Day 1. Making stuff.
Blacksmithing: Spend a three hour session in the Blacksmith shop learning to heat metal and form it into useful items, learn about tempering steel, reading metal temperatures by color, twisting and bending metal into useful shapes.
Woodworking: Use traditional hand tools such as planes, saws, shaving horse, auger bits, squares, and wood lathes to make an item from a rough block of wood to a usable item. Bring your muscles, You provide the power.

Day 2
Working with Draft Animals. Learn about and drive or ride along with Tillers' well trained draft horses, donkeys or oxen. These are impressive animals. They are the primary power used to work the land on the demonstration farm. Animal care is key to establishing a bond between draft animals and their handlers. Be prepared to learn more about a good animal-human relationship.
Traditional Crafts. A rural community required much more than just farm tools. Make rope, from raw twine, learn about broom-making, the role of making and servicing wooden wagon wheels, and the village bucket and barrel maker, and more hands-on activities.

Students must attend both days to meet attendance requirements.

Follow up presentation meeting. Students will present a work inspired by their time at Tillers. Can be a 2D art item, a project made at Tillers, a written or musical work. Age appropriate of course.

Parents: You will want to join the class. Tillers offers classes in many traditional arts for adult learners. They regularly put together activities for youth groups. All of this is to support the international mission of the organization and preserve traditional skills. Your leader for the trip will be Tom Hurst. Tom has taught many classes at Tillers, is a former board member and regular consultant on classes and international projects. This class could lead to more offerings through the Berrien Springs Partnership.
*Please note: it is important to make as informed a decision as possible when choosing your student's Community Resource classes. Most locations will allow a student to drop a class after one meeting, at no charge if it wasn't a good fit for the student, but not all. Some classes plan ahead based on the number that have signed up and have purchased materials, hired teachers, etc. and there might be a fee for class time or materials given to the student if the student drops after one or two meetings. The school cannot pay for classes that students do not complete, so choose wisely; if you do not take the class off of your student's schedule by the deadline, you may be asked to pay for the class time incurred prior to dropping the class.

Teacher of Record: Tom Hurst