Project Based Learning Electives provided by the Berrien Springs Virtual Academy
Chess - Niles Fall 2023
All students must complete a project for this class.
Instructor's Names:
Marty Klubeck (in person classes)
Epiphany Peters (online classes)
Instructor Email: klubeck.1@nd.edu
Instructor Phone: (574)303-4277
Location/Format: Virtual Zoom or
In- Person at the coffee shop at Martins in Niles, Michigan (Please direct all location questions to the instructor.)
Masks: Optional
Classes begin August 29.
Ages/Grades: Grades 3-12
Virtual Zoom classes: Tuesdays 12-1:30pm OR 6:30-8pm
In-Person at the coffee shop: Thursdays 4-5:30pm
Please use this placement exam for assisting with where your student should be. It's only a tool to suggest, not restrict.
Description:
While students will learn about prioritization, analysis, memory enhancement, visualization, and natural consequences, the course will specifically teach:
how to play the game (rules and piece movement)
principles of good play (including piece development and center control, King safety, material values, and space)
tactical strategies (including Pins, Skewers, Forks, Discovered Attack, and Double attack)
strategic strategies (including pawn formations, open vs. semi open files, Knights vs. Bishops, and blockade)
Opening, Middle, and End Game play.
The course will also teach: tournament play including time/clock management, keeping score (capturing the game on paper) and good sportsmanship/etiquette.
Students will progress from novice (learning how the pieces move) to tournament-ready players. The idea is to meet the players where they are and to help them progress through the levels of play:
novice (no idea what chess is)
beginner (can play a game following the rules)
developing (can display command of the principles of good play)
tournament ready (demonstrates understanding of Open, Middle, End Game play and plays according to tournament requirements)
accomplished (can leverage Tactical and Strategic Principles and obtain 1200 USCF rating or equivalent).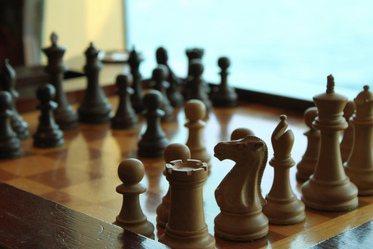 *Please note: it is important to make as informed a decision as possible when choosing your student's Community Resource classes. Most locations will allow a student to drop a class after one meeting, at no charge if it wasn't a good fit for the student, but not all. Some classes plan ahead based on the number that have signed up and have purchased materials, hired teachers, etc. and there might be a fee for class time or materials given to the student if the student drops after one or two meetings. The school cannot pay for classes that students do not complete, so choose wisely; if you do not take the class off of your student's schedule by the deadline, you may be asked to pay for the class time incurred prior to dropping the class.

Teacher of Record: Becky Halcombe rhalcombe@homeoftheshamrocks.org and Mark Ring