Project Based Learning Electives provided by the Berrien Springs Virtual Academy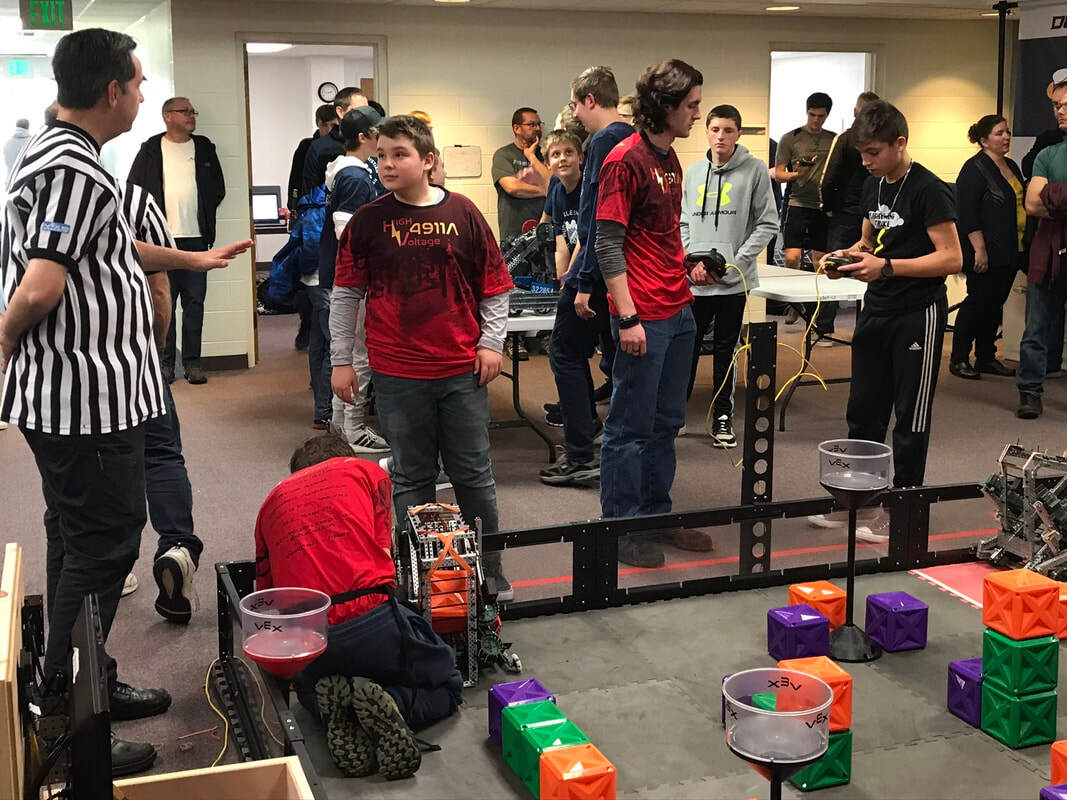 Robo-Tech Zone of Michiana: VEX Competitive Robotics Fall 2023
All students must complete a project for this class.
Classes begin Thursday, August 31, 5-8pm
​Contact: Chris Kimmey
Email:​ robotechzoneofmichiana@gmail.com
Dates: Thursdays 4-8pm, some Mondays as needed
Location:​ New Bell School 1830 S. 3rd St., Niles, MI 49120
Grades: 7-12, 6th with invitation
Format: In-person
Masks: follow current CDC protocols
We are Robo-Tech Zone of Michiana, a non-profit organization that facilitates competitive robotics teams. Our program partners with local public, private and home schools to offer students from all over the area the opportunity to be a part of an amazing opportunity.

The program is VEX VRC, competitive robotics. Students work together in small groups to design, build, and program a robot to participate in a new game challenge every year. STEM concepts are put to the test as students learn lifelong skills in teamwork, leadership, and communication. All the while engaging in the engineering process.
Our program accommodates in-house scrimmage teams for those participants that cannot travel. For those choosing to travel; Students will participate in three or four competitions starting in October as part of the Mega League based out of the Grand Rapids, MI area. The program also participates in at least two Saturday tournaments in the December through February timeframe. For those teams progressing beyond the regular competition season, to State, Nationals, or Worlds, the season may continue through April.
Usual Meetings times are Thursdays from 4pm-8pm with some Mondays as needed. League nights and tournaments may vary.
Ages: 7th - 12th grades. 6th graders may participate through application and invitation.
Through robotics, we see the value of hard work, innovation, creativity and the importance of treating each other with dignity and respect.
Instructors/Mentors: Chris Kimmey, Bob Smith, Jojo Kimmey and Michael Rohweder.
*Please note: it is important to make as informed a decision as possible when choosing your student's Community Resource classes. Most locations will allow a student to drop a class after one meeting, at no charge if it wasn't a good fit for the student, but not all. Some classes plan ahead based on the number that have signed up and have purchased materials, hired teachers, etc. and there might be a fee for class time or materials given to the student if the student drops after one or two meetings. The school cannot pay for classes that students do not complete, so choose wisely; if you do not take the class off of your student's schedule by the deadline, you may be asked to pay for the class time incurred prior to dropping the class.

Teacher of Record: Tom Hurst