October 31, 2023
Inclement Weather and School Closure Information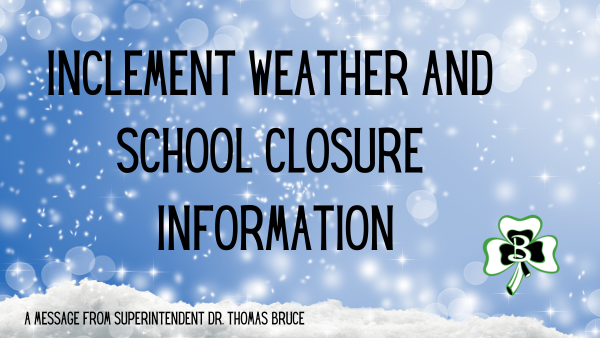 Parent Communication from Dr. Thomas Bruce
Dear Parents and Guardians,
I hope all is well with you and your family, and the first quarter of school was a time of engaging learning experiences, personal growth, and achievements. As we move into the winter months, we want to ensure you are updated about our inclement weather and school closure procedures, including the various communication outlets we will utilize to keep you informed.
The safety of our students and staff is our top priority. When inclement weather conditions necessitate a change in our regular school schedule, we have a set procedure to ensure everyone's safety. This may include school closures, delayed starts, or early dismissals.
To keep you informed about any weather-related changes, we will utilize multiple communication channels, including:
School Messenger: You will receive notifications via our School Messenger system. This will include an email, phone call, and text message. Please ensure your contact information is current with your child's school to receive these messages.
Berrien Springs Public Schools App: Download and install our "Berrien Springs Public Schools" official mobile app from your app store. We will send push notifications with important updates through the app. Our new app serves as a comprehensive hub for all your information needs.

Facebook & Instagram Posts: We will post updates on our official Berrien Springs Public Schools Facebook and Instagram pages. If you haven't already, follow our Berrien Springs Public Schools and building pages to stay informed.
Website Posts: Our official website will feature updates on the homepage. Visit www.homeoftheshamrocks.org for the latest information.
Local News and Radio Channels: Information will also be shared with local news stations WNDU, WBST, ABC57, and local radio stations which often broadcast school closure and delay information early in the morning.
Please note that decisions regarding school closures or schedule changes are made with the utmost consideration for student and staff safety. We will strive to make these decisions as early as possible to allow for proper planning for you and your family.
Your cooperation and understanding are greatly appreciated during these winter months. If you have any questions or need assistance, please don't hesitate to contact your child's school or the district's central office. Thank you for your continued support for Berrien Springs Public Schools.
Together We Can,
Dr. Thomas Bruce, Superintendent