January 16, 2023
BSHS BPA Chapter compete in Region 1 Regional Competition in Grand Rapids, MI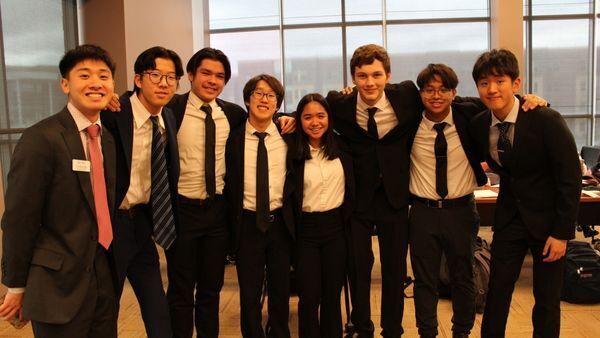 21 team members qualify for the state competition
On Friday, January 13, 2022, the Berrien Springs High School (BSHS) Business Professionals of America Chapter competed at the Region 1 Regional Competition at Davenport University in Grand Rapids, MI. The Shamrock chapter competed in many categories, including video production, Parliamentary Procedures, Business Law & Ethics, Computer Network Technology, Entrepreneurship, and many more, against other regional schools. The results of the competition are as follows:
Team Events:
Parliamentary Procedures Team
1st Place, (Team) James Andersen, Jonathan Kertawidjaja, Melody Kertawidjaja, Jeremy Kwon, Josiah Pittman, Yeonwoo Seo, and Alex Tom

Video Production Team
2nd Place, (Team) Megan Halder, Eugene Ha, Kaylee Kwon, & Aileen Mongkau
Individual Events:
Basic Office Systems & Procedures
3rd Place, Fatima Rodriguez

Business Law & Ethics
3rd Place, Alex Tom

C++ Programming
2nd Place, Jonathan Kertawidjaja

Computer Network Technology
3rd Place, Sumit Sarker

Economic Research Individual
2nd Place, Josiah Pittman

Entrepreneurship
4th Place, Samantha Santiago

Fundamental Spreadsheet Applications
3rd Place, Eugene Ha

Fundamentals of Web Design
1st Place, Aileen Mongkau

Extemporaneous Speech
3rd Speech, Danielle Gittens

Graphic Design & Promotion
2nd Place, Kaylee Kwon
4th Place, Denalia Black

Health Administration Procedures
2nd Place Megan Halder
3rd Place Jessy Hajaj
4th Place Fatima Rodriguez

Interview Skills
2nd Place, Athenabelle Lieu
4th Place, Brianna Paola Hernandez
Python
1st Place Zachary Duah

Open Events:
Administrative Support Concepts Open
3rd Place, Danielle Gittens

Business Spelling
1st Place, Glorgio Ruhupatty
2nd Place, Zachary Duah
3rd Place, Jeremy Kwon
4th Place, Garbielle Gittens

Computer Programming Concepts Open
5th Place, Zachary Duah

Digital Communications & Design Concepts Open
1st Place, Samantha Santiago

Medical Terminology Open
1st Place Danielle Gittens
2nd Place Yeonwoo Seo
3rd Place Jeremy Kwon

Parliamentary Concepts Open
1st Place, Jeremy Kwon,
2nd Place, James Andersen
3rd Place, Alex Tom
5th Place, Yeonwoo Seo
Congratulations, Shamrocks! As a result of the regional competition, twenty-one students qualify for the state competition. The Shamrocks will compete in their different categories, participate in Workplace Skills Assessment Program events, attend leadership workshops, and experience many other activities with students across the state. The 51st Annual BPA State Leadership Conference is March 9-12, 2023, in Grand Rapids, MI.
Business Professionals of America is a national career and technical student organization comprising 25 state associations and more than 45,000 members from over 1,800 chapters. Business Professionals of America aims to develop and empower student leaders to discover their passion and change the world by creating unmatched opportunities for learning, professional growth, and service.